Film Production Specialist.
Since our founding in 1956, Daika Kogyo has been a leader in developing innovative film products to meet customer needs. Daika's operations have diversified in step with market demand and business areas now include co-extrusion cast film, IPP film, stretch film and converting facilities.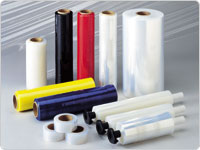 Fully Integrated Production,
from basic research to post-production processing and production management, is key to Daika's ongoing success. Whether you are in the market for a commodity item or a customized film, Daika has the flexibility to respond quickly to your specific needs. Our products are used in such diversified fields as food packaging, textiles/apparel, stationery, diapers/sanitary products, construction and industrial transport, among others. Daika will work with you to create a product to meet your requirements.
Product Development
Using our know-how of production, post-production processes and materials. Product development at Daika is driven by the latest market trends and customer demands. It is based on our expertise in in combining materials, and our superior production and process technology.

As pioneers in multilayer co-extrusion film technology, our technological expertise has enabled us to create films previously thought impossible to produce, such as co-extruded PP/LLDPE/PP film.
Daika is also focusing research on eco-friendly products such as core-less stretch wrap film.
Production Supply
Responding with flexibility and speed to diversified needs. Each of Daika's factories is equipped for film manufacturing and a range of post-production processes, providing superior quality and cost-effectiveness. Strict quality assurance and inventory management enable us to deliver superior products on a timely basis. We'll work with you to meet you specific needs with our flexible and speedy production.